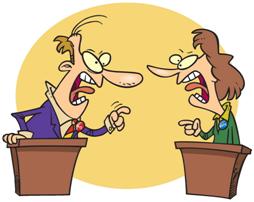 Here's a distinction with a difference: I do want/I don't want.
What's the distinction?
Do is a more direct route.
I'm an expert on what I don't want. I'm not as skilled on what I do want. I don't think I'm alone.
When your focus is mainly on what you don't want, there's less of it available for what you do want.
With "I don't want," there seems to be the need to express an opinion, a rationale to justify keeping what you don't want in focus. What I do want is an expression of our desires which contain more passion and less justification. There is a measurable difference.
If you need to be heard, chances are you'll be fixated on what you don't want. That means that everyone within earshot will be treated to the rationale of what you don't want and not have a clue as to what you do want. They'll be as confused about your desires as you are.
That means that no one really knows what to deliver to you because you're murky on it yourself. It's a hit and miss proposition.
Shifting focus to what you do want gives you lots of room to operate because you've cleared away the distractions of what you don't want.
"Do" suggests forward; "Don't" suggests retreat.
It's hard to get where you are going if you are traveling backwards.
But have you noticed that sometimes, even when we express what we do want, we are quick to point out all the "don't want" conditions?
"I do want a new car but I don't want the hassle of going to the dealership and playing the negotiation game, and I don't want to have to park away from everyone so I don't get dings, and I don't want to pay more premiums to those ungodly insurance companies."
The "Don't's" take the steam out of the "Do's."
Yes, do consider the consequences before making a major decision, but don't get focused on the glue. It will keep you stuck as to what to do.
Do this experiment. List a few things that you do want and notice how quickly the litany of don't wants start to crowd your mind. It's a pattern of thinking that keeps our focus scattered – keeping us from taking action on what we do want.
You can interrupt the stream of don't wants by just noticing them when they do show up. Don't engage them in debate, just notice their presence. Once they are acknowledged, they do quiet down.
Then it's time to give do and don't their separate, proper due.
Set aside time to give consideration to all the things you don't want. Have a private meeting and give the "Don't's" all the recognition they deserve.
Then set up the same ground rules for the "Do's." This is a time exclusively set up for what you do want.
You are reconditioning your mind to allow separate times for Do's and Don't's.
The result is the meetings are shorter, leaving more time for action.
If you don't want your "Don't's" getting in the way of your "Do's," do recognize the worth of both and then go pursue.
All the best,
John
LOSE WEIGHT & KEEP IT OFF
STOP SMOKING FOREVER
SLEEP THROUGH THE NIGHT EVERY NIGHT
IMPROVE YOUR SELF CONFIDENCE
I LOVE MY BODY
RELAX IN 2 MINUTES
FEEL FOREVER YOUNG
VIRTUAL MASSAGE
Be Sociable, Share!