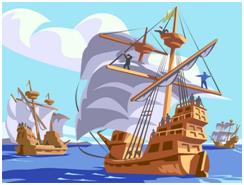 I'm old enough to remember when many holidays were celebrated on the day of the week they landed on, rather than on a Monday. Such is my memory of Columbus Day – October 12th.
I also remember two jokes that came with Columbus Day:
Have you ever had the Columbus Day cocktail? Two of these and you discover a whole new world.
Columbus actually had 4 ships – The Nina, The Pinta, The Santa Maria and The Murray. The reason you never heard of The Murray is because it sailed over the edge.
But Columbus Day really reminds me of a personal discovery I made some 20 years ago. It dawned on me that discoveries were really "Uncoveries."
What you discovered was always there, just not in plain view. It was covered over.
What covers what's there to discover? Blinding knowledge that we know all there is to know.
Knowing covers over what's yet to be uncovered.
When you know, you stop looking. And when you stop looking, you are covered in the stench of superiority which is a dead giveaway that you know it all.
The Grasshopper reminded us that, "When you know, you cease to grow."
What is that you're laying claim to knowing about that's preventing you from uncovering a new discovery?
It's a powerful question that will lead you to your own uncoveries. You just have to ask it and follow it where it leads.
I invite you to view the following video that clearly demonstrates the type of knowing that deters discovery and how adamantly we defend what we claim to know.
http://www.youtube.com/watch?v=By-ohi3vO2w
All the best,
John
LOSE WEIGHT & KEEP IT OFF
STOP SMOKING FOREVER
SLEEP THROUGH THE NIGHT EVERY NIGHT
IMPROVE YOUR SELF CONFIDENCE
I LOVE MY BODY
RELAX IN 2 MINUTES
FEEL FOREVER YOUNG
VIRTUAL MASSAGE
Be Sociable, Share!