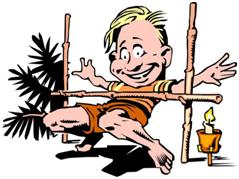 Limbo is more than a spine testing dance or a hypothesis about the afterlife; it's a frame of mind that keeps you in a state of wait.
The trapped Chilean miners had no choice but to wait, but we do. Yet, many of us don't choose; rather we set up shop in Limbo.
Limbo is waiting without anticipation. You are just suspended in time without any view of a horizon or light at the end of a tunnel. It's truly a "no place" place to be.
You can't envision what you want because you wear blinders in Limbo.
Limbo is like being in shock; all you can do is fuzzily think about how you can't move.
Like shock, you arrived in Limbo by accident, but you stay there by your own hand by reinforcing your lack of options.
When you deduce that you only have one option, you stay in a self induced coma known as Limbo.
The one option of permanently waiting is Limbo.
Please don't confuse the waiting of Limbo with patience. They are different approaches.
Patience suggests something will happen; Limbo is just waiting.
A patient person will take action within their patience, while a "Limbonian" just dies on the vine. Perhaps an example would be helpful . . .
Suppose you have to be patient to go on a vacation. You have to wait until next summer before you can go. You don't have a time machine to speed up the days but you do have the ability to take action on a variety of fronts. You can set up a weekly savings plan that will give you money to spend on vacation. You can buy discounted sunscreen in the off season in preparation for your summer getaway. You can plan the clothing you want to take, bone up online about the restaurants and sights you want to visit, and the list goes on and on.
In Limbo, you only have one option – waiting.
Limbo is the mythical kingdom of the mind known as no action.
Limbo is being overwhelmed by the mountain; getting out of Limbo is noticing the foothills and taking steps towards them.
The rescue begins by recognizing there are options and then taking action on those options no matter how small.
Here is the 2-step dance for getting out of Limbo: Notice & Move.
You don't have to bend over backwards to get out of Limbo, just notice you have options and move towards them – a step at a time.
All the best,
John
LOSE WEIGHT & KEEP IT OFF
STOP SMOKING FOREVER
SLEEP THROUGH THE NIGHT EVERY NIGHT
IMPROVE YOUR SELF CONFIDENCE
I LOVE MY BODY
RELAX IN 2 MINUTES
FEEL FOREVER YOUNG
VIRTUAL MASSAGE
Be Sociable, Share!